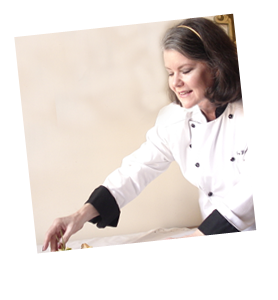 Nora Wetzel, R.N., C.C.C.
I started out as a registered nurse and CPR instructor, which led to teaching heart-healthy programs as well as consulting to offshore-catering companies in the Gulf of Mexico.
In 1990, while still nursing at Tulane University Medical Center, I started my off- premises catering business.
As a member of the New Orleans chapter of the American Culinary Federation, I worked on special projects, participated in master chef workshops and continuing education courses . In 2000 I completed the food-service nutrition, sanitation, and management courses and passed the exam to become an American Culinary Federation Certified Chef de Cuisine.
Serving on the founding board of directors of the New Orleans chapter of the American Institute of Wine and Food, I had the priviledge of working on special projects with Julia Child and Robert Mondavi.  Other volunteer projects led to working along side chefs Chris Keragorgiou, Warren LeRuth, Emeril Lagasse, John Folse, Susan Spicer, and Ann Kearney.
I was active for ten years in the nineteenth century open-hearth cooking program at the historic Hermann-Grima House.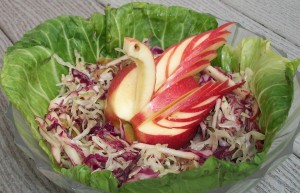 After ten years of consulting, I was offered a corporate position and began my career as an offshore field manager covering 30 locations. I commuted to work via helicopter, float plane. and crew boat. My duties included supervising catering operations, conducting culinary classes for staff development, and initiating culinary externship programs with the Cordon Bleu in Texas and Florida.
I inspected galleys on fixed platforms, semi-submersibles, dive barges, and drill ships.  In experiencing the multiple challenges to catering service and living offshore,  Design Logic, my re-design service was born. My projects took me out of operations and into engineers' planning meetings in Houston as well as supervising construction offshore and in shipyards in Mississippi and Texas.
At the end of 2009 I retired from offshore to re-establish my catering business.  Combining the expertise of both professions, I expanded into nutritional counseling, designing gourmet meals for special diets, personal chef service, cooking classes, while still offering floral design and full-service catering.
Special training:
Certified teacher Ikebana, Sogetsu School, Tokyo, Japan (the ancient art of Japanese flower arranging)
Former member and demonstrator New Orleans Confectionery Artists' Guild
Trained in 19th century cooking by foodways archaeologist, Daphne Derven
Trained in traditional Mexican cuisine at the Instituto Cultural of Oaxaca, Mexico
Trained in mukimono and garde manger by Chau Ngoc Nuguyen
Completed Spanish language immersion program in Oaxaca
Completed French language immersion programs in Paris and Villefranche sur Mer
Memberships:
Board member Sociedad Espanola
Board member L'Union Francaise
Board member Lousiana Historical Society
Member Louisana Landmarks Society & event coordinator for the historic Pitot House